Pennies for Patients
For 2020 Catholic Schools' Week, Holy Name of Jesus School decided to do a service project to help raise money to find a cure for blood cancer.  Fourth graders set the stage for the project by visiting all homerooms to teach about the cause, worked with our sixth-grade morning announcement team (HNN, Holy Name News) to create videos, collected and counted the cash each day.  After our school Mass, fourth graders presented a "check" for $3,700 to Cassidy Nord of the Leukemia and Lymphoma Society. 
Sock Drive
In honor of Catholic Schools' Week and the Sock Hop, Sixth Grade Student Council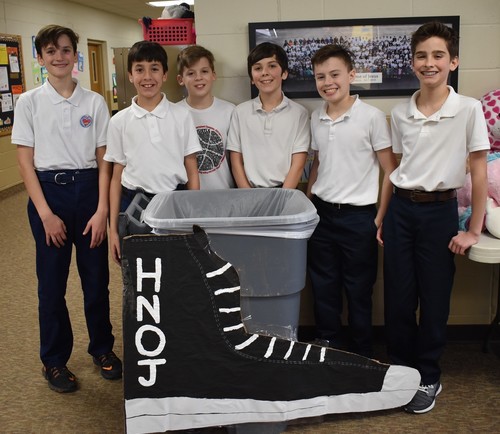 collected socks for people in need. Socks are the number one item needed by homeless shelters. We collected 955 pairs of socks! A team of gentlemen created the container to collect the socks.
Third Grade Valentine Project
Instead of a Valentine's Party, our third grade students decorated snack bags for children in need in our community.  We filled 200 bags with Goldfish, mandarin oranges and juice boxes which were delivered to IOCP.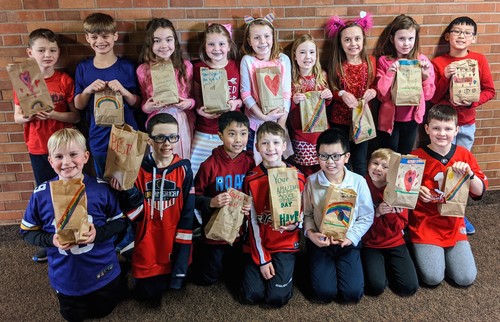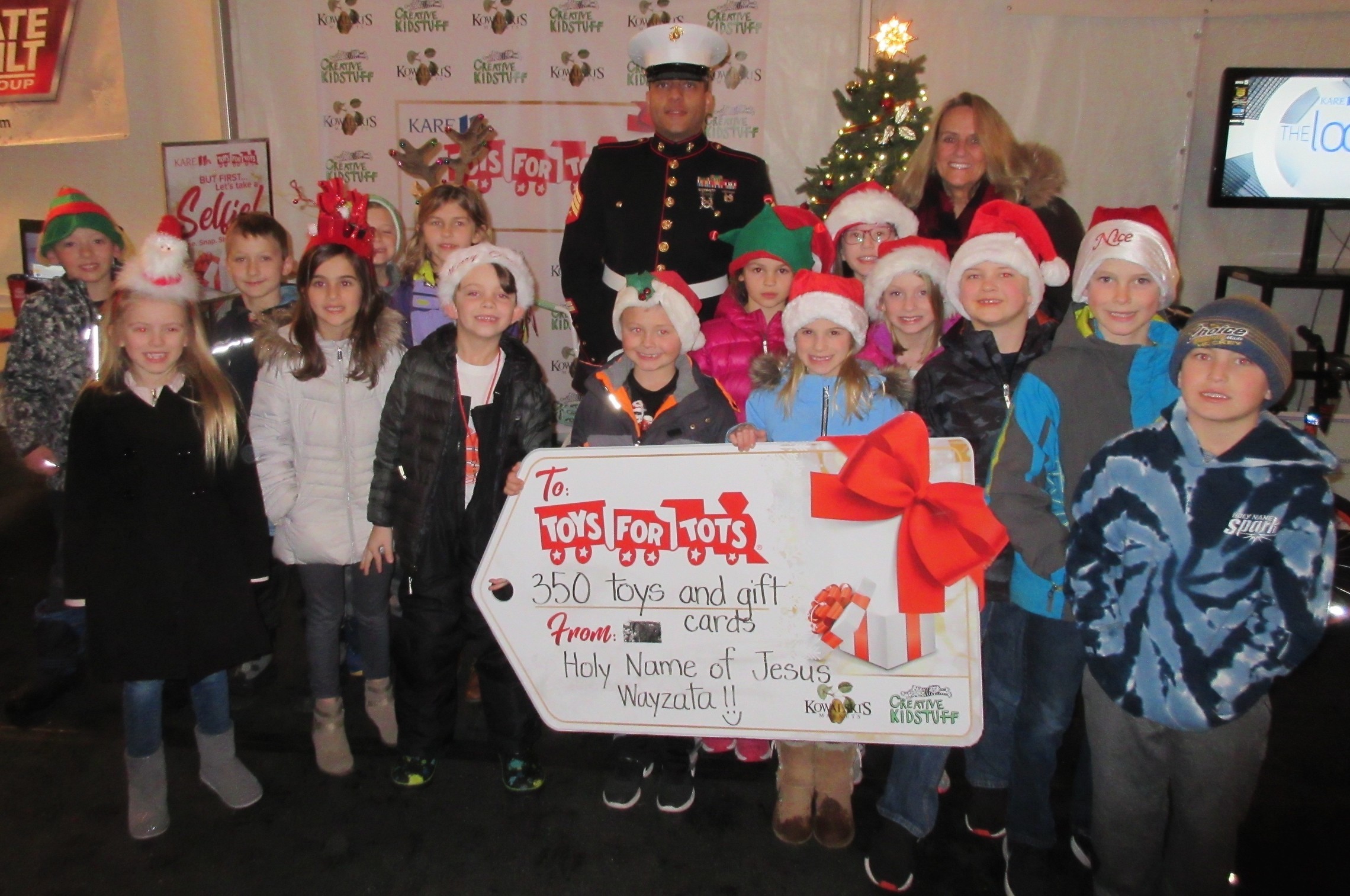 Toys for Tots 
2020 looked a little different than most years, but we are proud of our results.  Rather than bringing in toys and gift cards,  students brought in cash and gift cards.  We raised over $2000 in gift cards and donations. Our own joyful elf, Ms. Maureen Smith, loaded up her sleigh and made the delivery to Kare 11. 
In previous years, Holy Name of Jesus School has collected toys and gift cards and presented them on Kare11 news.  We even meet up with Alum, Ryan Shaver, who interviewed Maureen Smith, one of our second-grade teachers who had Ryan in years past.  
Second Thursday Hospitality
Students from The Edge Program serve breakfast to parishioners after our 6:45 Mass on the Second Thursday of each month during the school year. While during the 2020 - 2021 school year, our students prepared To-Go breakfast bags, we look forward to being back to in-person breakfasts starting Fall 2021.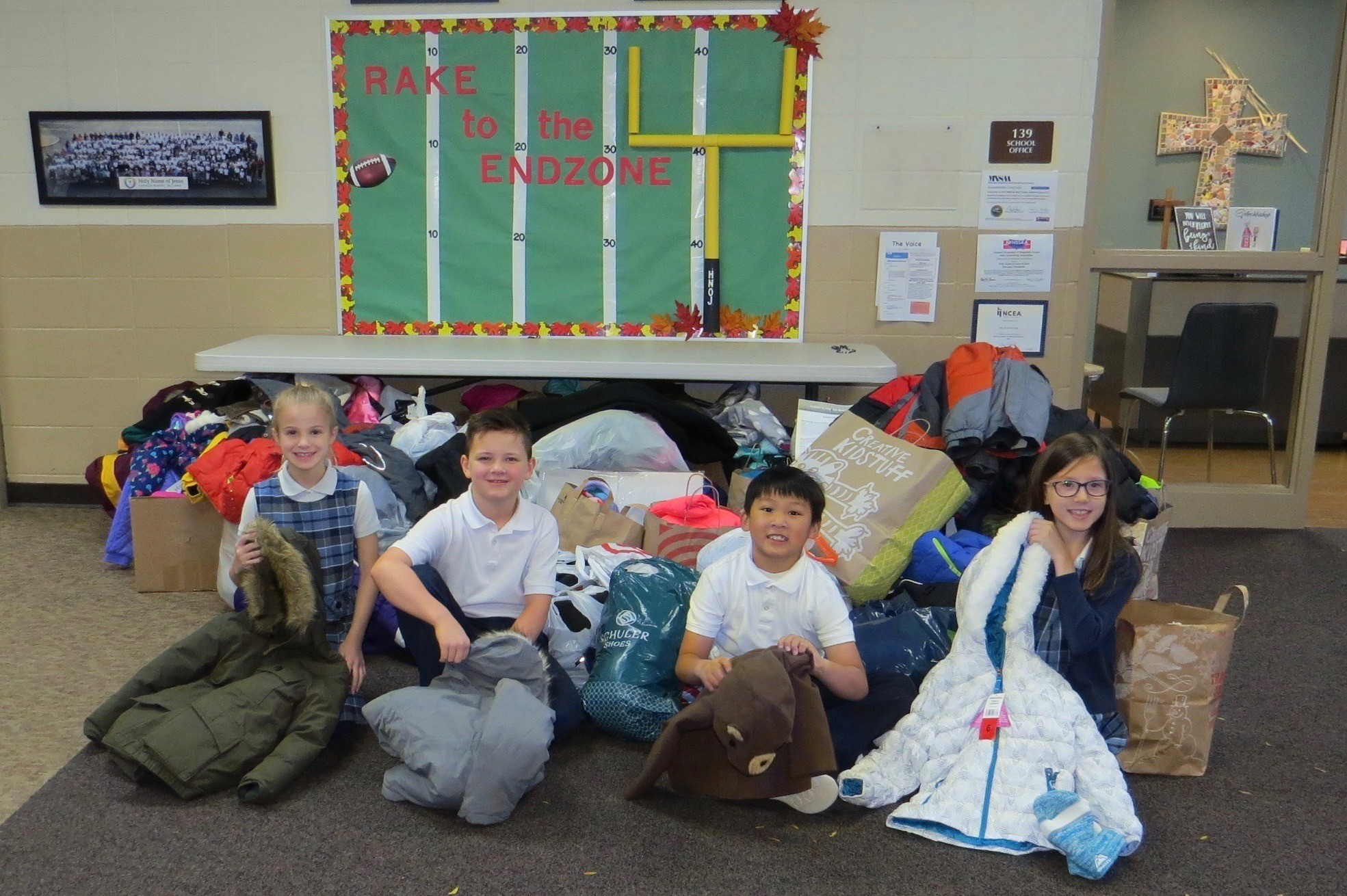 2018 Mass of the Holy Spirit
Fourth through sixth graders attended the 2018 Mass of the Holy Spirit. Students in all grades brought in winter apparel and our second graders helped organize the donations. This event is held every other year.  
First Grade Service Project
Every December first graders write letters of thoughts, prayers, and cheer to members of our school and parish community.  Names can be sent to first-grade teachers for families and friends you wish to receive a letter.