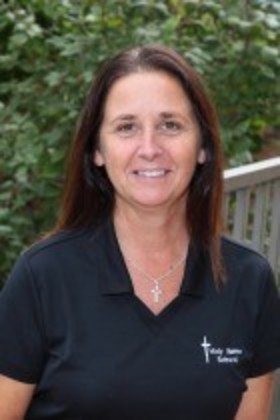 "My name is Martha Laurent, and as principal of Holy Name of Jesus School, I'd like to welcome you and thank you for taking time to learn more about our school."
HNOJ School provides children in preschool through sixth grade with a Catholic education aimed at educating the whole child: encouraging academic, spiritual and personal growth. As a Blue Ribbon School, we are committed to delivering superior scholastics in small classroom settings, plus exciting opportunities beyond the classroom—through which students can learn and grow as scholars and individuals throughout their years.
Our mission is to provide academic excellence in a preschool through sixth grade school while proclaiming, celebrating and living the Gospel of Jesus Christ. Our school offers:
Individualized learning through small class sizes—we take pride in our "right-sized" classes to meet developmental and individual needs.

A rich history dating back to 1919, and a dedication to Catholic education that began long before.

Preschool programs offered for ages three to five, with full day option for ages four and five.

Half-day and full-day kindergarten, plus first through sixth-grade classrooms.

Before and after school programs that encourage student creativity and the building of friendships.

Weekly Bible Studies for fourth through sixth grade build faith and relationships.

Annual events include Christmas and Spring Concerts, Rake-A-Thon, Catholic Schools Week, Field Day and Grandparents' Day connect students and families with our community.
We'd love to introduce you to our school community.
You can schedule a tour by contacting our school office at 763-473-3675 or emailing us at HNOJSchool@hnoj.org.
We look forward to hearing from you!
Sincerely,
Martha Laurent
mlaurent@hnoj.org
Principal of Holy Name Of Jesus School