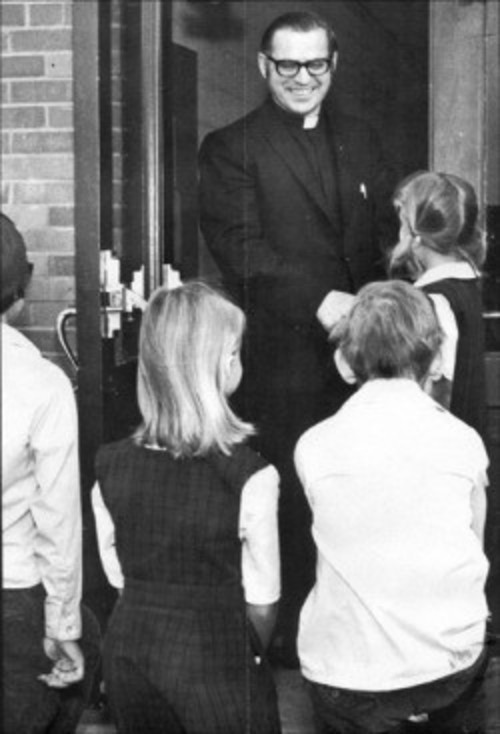 Holy Name of Jesus parishioners have supported Catholic education since the beginning of the parish. Early church services and classes were held in the homes of parishioners, and as early as 1874, the old log church building—the original Holy Name of Jesus Parish—was used as a school for just a few months during the year.
The original Holy Name of Jesus School was built across the road (Co. Road 24) from the church on the knoll overlooking Holy Name Lake in 1919. It was staffed by the sisters of the Order of St. Benedict from Duluth. The enrollment for the first year was 52 students: 48 pupils in the eight elementary grades and four in the first year of high school.
School was conducted in this two-room building until 1955, when the present school was built. Initially, it was a four-classroom school with two grades being taught in each room (an improvement over four grades in each room in the old school!). The first floor of the school was used as a parish hall and lunchroom for the school children.
In 1965, the hall was divided to make two additional classrooms. In the years that followed, the school was renovated and expanded to accommodate growing demand, and lay teachers and administrative staff were hired. By January 1989, enrollment had grown to 185 students, and the school spanned kindergarten through sixth grade, with one classroom per grade.
As enrollment steadily increased, each grade expanded to two classrooms. Growth has meant the addition of many teachers, programs, volunteers and innovations. In 1990, Holy Name of Jesus School and Ascension School in North Minneapolis formed a sister relationship, along with their parishes. The diversity in these schools was celebrated by sharing holiday celebrations, choir concerts, service projects and friendships.
In 2008, Holy Name of Jesus School was recognized as a Blue Ribbon School for delivering academic excellence. Then, after many years as a Kindergarten through sixth grade school, HNOJ School opened Little Sparks Preschool in fall 2011. Today, Holy Name of Jesus School serves an average of 300 students at these grade levels and is dedicated to continuing the tradition of excellent Catholic education in our community.